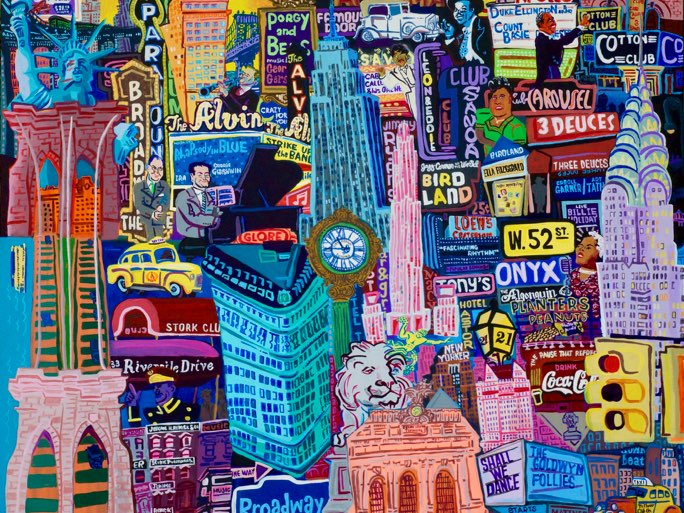 Elvis's favorite Hollywood hangout. U2's, too. And one of mine.
A youngish woman wearing a Chinatown dress, trying to capture some of that 1950s idea of Chinese cuisine.
The sign, visible through the blinds. Money left on the table. A very foregrounded martini. The red banquettes. The hipster dude with two-toned wingtips and hat with upturned bill.
The wall of black and white autographed head shots.
It's cinematic.
I was really exploring my own version of a naive folk style of representation. Real life anecdote: I was showing my portfolio to the head of an ad agency, back when people did that. I was suppoed to meet with the head creative director but he was busy meeting some deadline so they shunted me off to the guy who's name was on the masthead, so to speak. The founder of the firm. The oldest guy in the joint. A guy who, he told me, had his eye on the exits, career-wise.
I brought the actual painting because an art director friend told me I shiould do some of that, so they could really feel the texture. I pulled it out first, mainly so it didn't get damaged by the other cards in the portfolio. I started showing him various styles and various projects that I had assembled and he nodded a lot and had a kind of 'let's just get this over with air' about him.
And then, halfway in, so after about 15 minutes, his face lights up and he smiles.
He says, "Steve, when you first pulled that painting out I thought oh no, this is an absolute and complete waste of my time. That this guy doesn't have the basic artistic skill to do anything. That someone should tell him this before he goes too far down this road. And as I saw your other work my eyes kept going back to the martinin paintiing. And now that I've been sneaking looks at it for all this time it just clicked. It's now my favorite of your images. As a matter of fact, it's one of the best images I've seen in a long, long time."
And of course I smiled from ear to ear.
Unfortunately he retired less than six weeks later.